SUPA Component 1 and Ministry of Environment and Forestry of The Republic of Indonesia Signed Agreed Minutes for Technical Cooperation in Aceh, Indonesia
May 25, 2021
Location: Virtual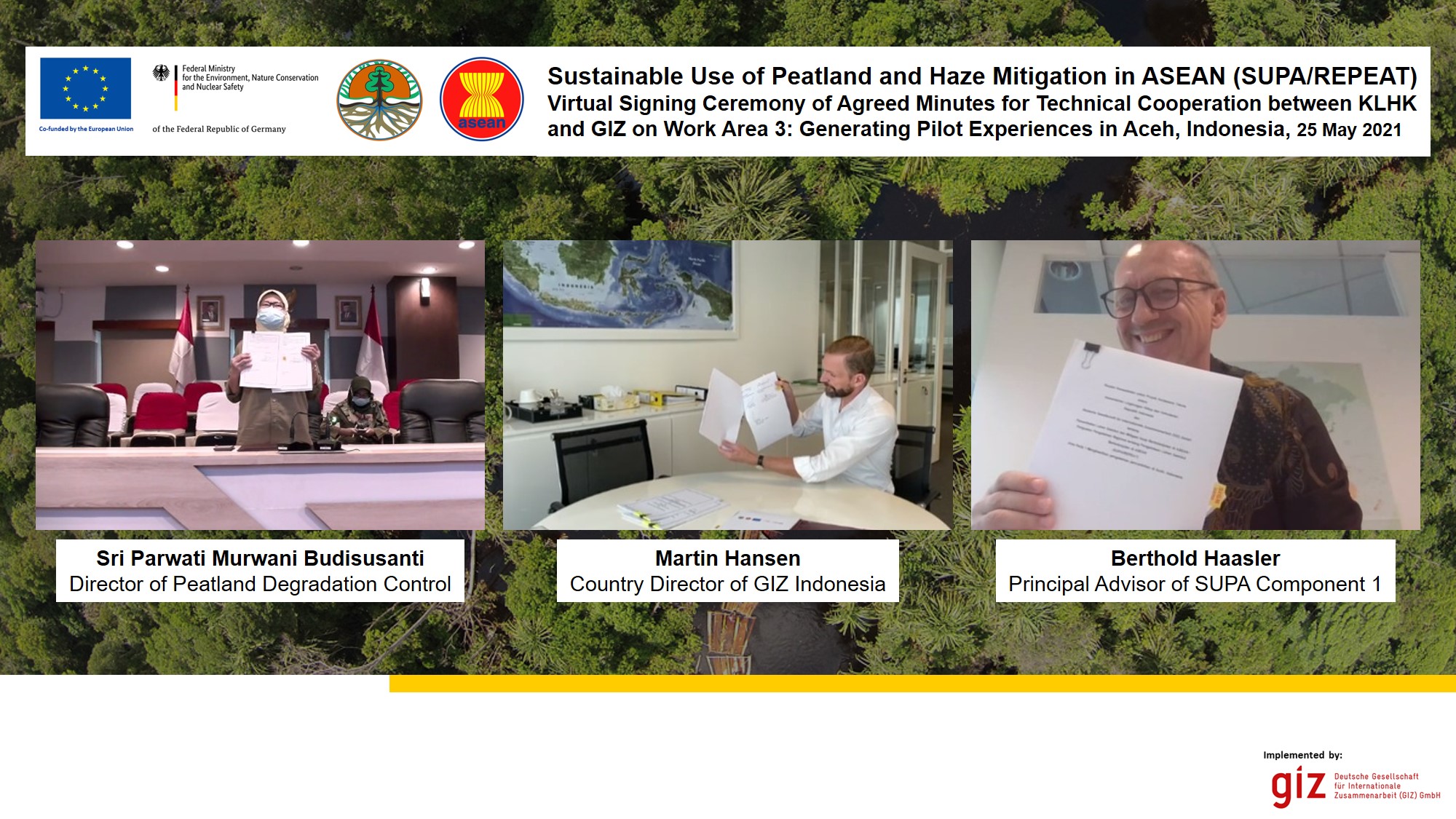 GIZ and Ministry of Environment and Forestry of The Republic of Indonesia (MoEF) signed the agreed minutes for technical cooperation on Sustainable Use of Peatland and Haze Mitigation in ASEAN (SUPA) Component 1 on 25 May 2021. The signed agreed minutes is specific for Work Area 3: Generating Pilot Experiences in Aceh, Indonesia.
The virtual ceremony was attended by Sri Parwati Murwani Budisusanti, Director of Peatland Degradation Control; Warthane Puvanarajah, First Secretary, Climate and Environment at the Embassy of the Federal Republic of Germany in Jakarta; A. Hanan, Head of Environment and Forestry Office of Aceh Province, and other relevant stakeholders.
Reading the opening remarks of Director General of Pollution and Environmental Damage Control, SPM Budi Susanti said that the cooperation between Peatland Degradation Control Directorate and GIZ is warmly welcomed. "We hope that the cooperation in Aceh Barat and Nagan Raya district in Aceh province can realize the sustainable peatland ecosystem by implementing activities that support the targets and obligations of the Ministry of Environment and Forestry in the field of peat protection."
"The results we achieve on the ground should primarily benefit the partners at the local level. But it is also important that we create good examples and best practices that can be adopted by others—not limited to Indonesia but to the entire ASEAN region," said Berthold Haasler Principal Advisor of SUPA Component 1.
As a result of a thorough discussion and a list of criteria, the Indonesian government decided that the Aceh province with Nagan Raya and Aceh Barat districts should become the pilot area of SUPA Component 1 in Indonesia. This agreement will officially start the implementation of Work Area 3 in Indonesia.
Share this