Policy dialogue explores implications for ASEAN environmental efforts
March 3, 2022
Location: Online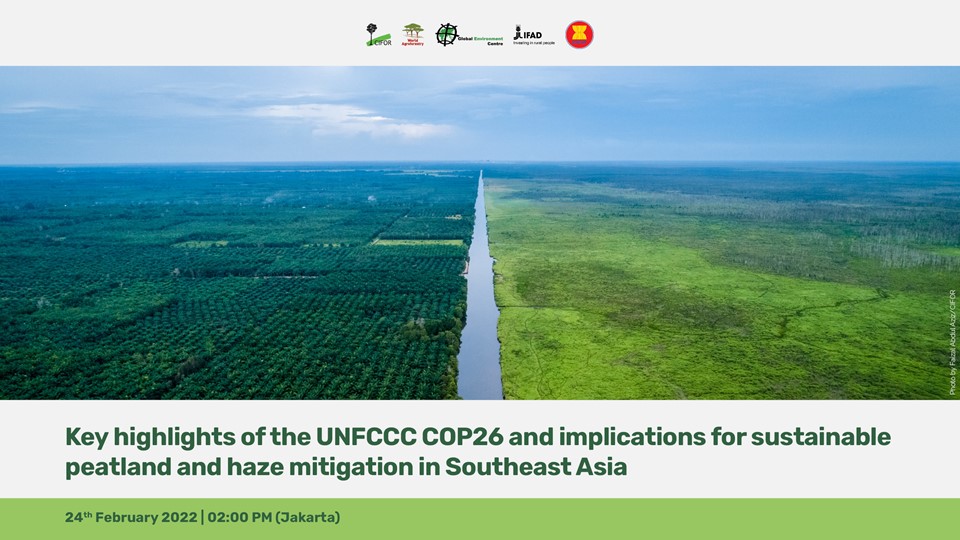 3 March 2022 – The Association of Southeast Asian Nations (ASEAN) Secretariat, in partnership with the Measurable Action for Haze-Free Sustainable Land Management in Southeast Asia (MAHFSA) Programme, hosted a virtual policy dialogue on 25 February.
The dialogue, titled Key Highlights of the UNFCCC COP26 and Implications for Sustainable Peatland and Haze Mitigation in Southeast Asia, was followed by the launch of The new ASEAN Haze Portal.
Scientists, policymakers, and other stakeholders explored the potential implications of the key commitments made at the 26th Conference of Parties (COP26) to the United Nations Framework Convention on Climate Change (UNFCCC) in Glasgow in 2021 for peatland management and haze mitigation in the region.
Peatlands in the ASEAN region make up around 40% of global tropical peatlands and are among the most biologically diverse ecosystems on earth, storing up to 15% of all carbon on only 0.17% of global land area. Fires in peatlands are responsible for large amounts of GHG emissions, as well as around 90% of haze in the region.
"Climate change has become one of the most important issues that ASEAN faces, and the biggest challenge to the sustainable development of our region in the 21st century," said Vong Sok, Head of Environment Division of ASEC's Sustainable Development Directorate.
However, according to Tri Saputro, Environment Officer of ASEC, the subject still lacks the attention it deserves. "Even though the linkages between climate change, haze, and peatlands are clear, research and development on this nexus is still a gap in the ASEAN region," he said.
He further highlighted the key findings from the recently launched ASEAN State of Climate Change Report, indicating that ASEAN must synergise adaptation and mitigation priorities, including air pollution prevention, haze and peatland management to expand opportunities for co-benefit climate actions.
Presenters identified the important synergies between existing regional policies – such as the ASEAN Agreement on Transboundary Haze Pollution, ASEAN Peatland Management Strategy, and the Roadmap on ASEAN Cooperation Towards Transboundary Haze Pollution Control with Means of Implementation – and key decisions made at COP-26 to enhance countries' ambitions for emission reduction by 2030, boost funding for mitigation and adaptation, and reach the goal of carbon 'net-zero' by 2050.
"This is an important window of opportunity to harmonize our efforts," said Vong Sok, the Head of Environment Division and Assistant Director of ASEC's Sustainable Development Directorate. From the regional perspective, he further stressed that ASEAN will continue supporting its Member States to identify and address both current and emerging capacity building gaps and needs, and catalyse climate action and solutions for peatland and haze.
Director of Peatland Degradation Control for Indonesia's Ministry of Environment and Forestry, Sri Parwati Murwani Budisusanti, and Zaeidi Haji Berudin, Senior Policy Officer of the Forestry Department of Brunei Darussalam's Ministry of Primary Resources and Tourism, shared their experiences of working to meet their nationally determined contributions (NDCs) to the Paris Agreement on Climate Change.
On his part, CIFOR-ICRAF principal scientist Michael Allen Brady noted that while five of the ASEAN Member States (AMS) had NDCs that aligned with the COP-26 decisions on these issues, "other AMS that we could not map directly through their NDCs have the opportunity to include peatland management and haze mitigation in the 2022 NDC update."
The new ASEAN Haze Portal was launched after the policy dialogue. According to Dilva Terzano, Environment and Natural Resource Management Specialist at the International Fund for Agricultural Development, the portal "will serve as a knowledge and information dissemination platform, as well as a stakeholder engagement platform, on sustainable peatland and haze management for the Southeast Asia region and beyond."
"The signing of the ASEAN agreements on transboundary haze pollution has played a crucial role as the main driver of ASEAN to tackle the haze challenges in the region jointly," concluded the Deputy Secretary General of ASEAN for the ASEAN Socio Cultural Community, Ekkaphab Phanthavong. "This platform will take it further into the digital era by providing space for the various stakeholders to interact, connect, impart wisdom, and find solutions for peatlands, forests, and haze management," he further added.
*****
Share this