ASEAN Peatland Partners showcase best practices COP26 peatland pavilion
Author: Environment Division | November 8, 2021 | Initiatives
GLASGOW/JAKARTA, 8 November 2021 – The ASEAN Secretariat, supported by the Measurable Action for Haze-Free Sustainable Land Management in Southeast Asia (MAHFSA) Programme and the Sustainable Use of Peatland and Haze Mitigation in ASEAN (SUPA) Component 1 Programme, held two side events at the Peatland Pavilion, UNFCCC COP26, in Glasgow.
The side events aimed to share successful examples of peatland restoration and policies that support the importance of peatlands in Nationally Determined Contributions from ASEAN Member States (AMS). It also shared strategies for increased resilience to adapt and prepare for the impacts of climate change, and promote concerted efforts between different actors, including authorities, communities and private sector.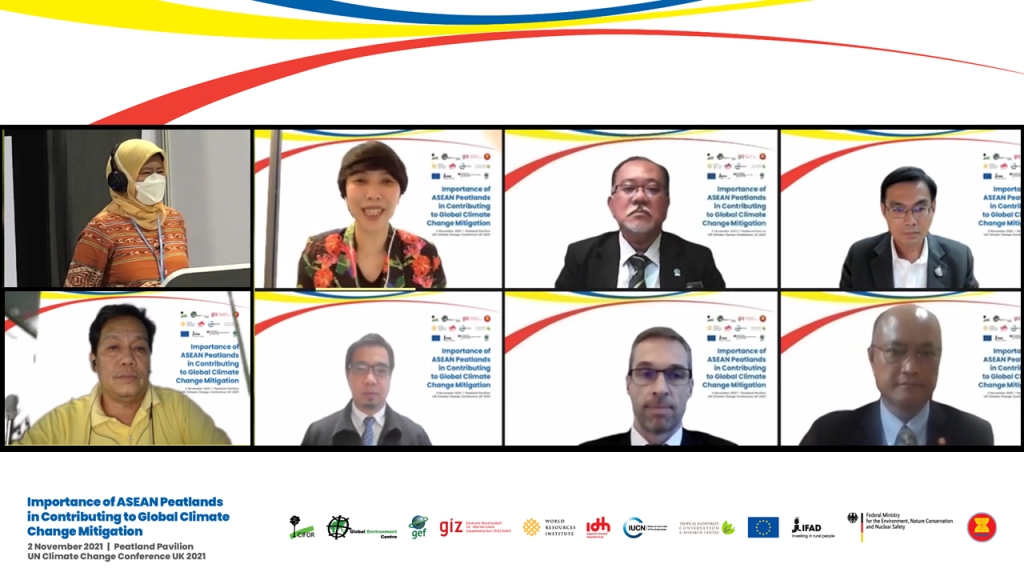 The first event, "Importance of ASEAN Peatlands in Contributing to Global Climate Change Mitigation" took place on 2 November, while the second event, "Towards a Climate Adapted Southeast Asia through Integrated Peatland Management", was held the next day. The Global Peatlands Initiative hosted the events and livestreamed them through the Peatland Pavilion online platform.
The events brought together representatives from the AMS, ASEAN Development Partners, and ASEAN Peatland Partners including Centre for International Forestry Research (CIFOR), European Union, Global Environment Centre (GEC), Deutsche Gesellschaft für Internationale Zusammenarbeit (GIZ), International Fund for Agricultural Development (IFAD), International Union for Conservation of Nature (IUCN) and World Research Institute (WRI) in the context of the MAHFSA, Mekong Peatlands Project and SUPA Programmes.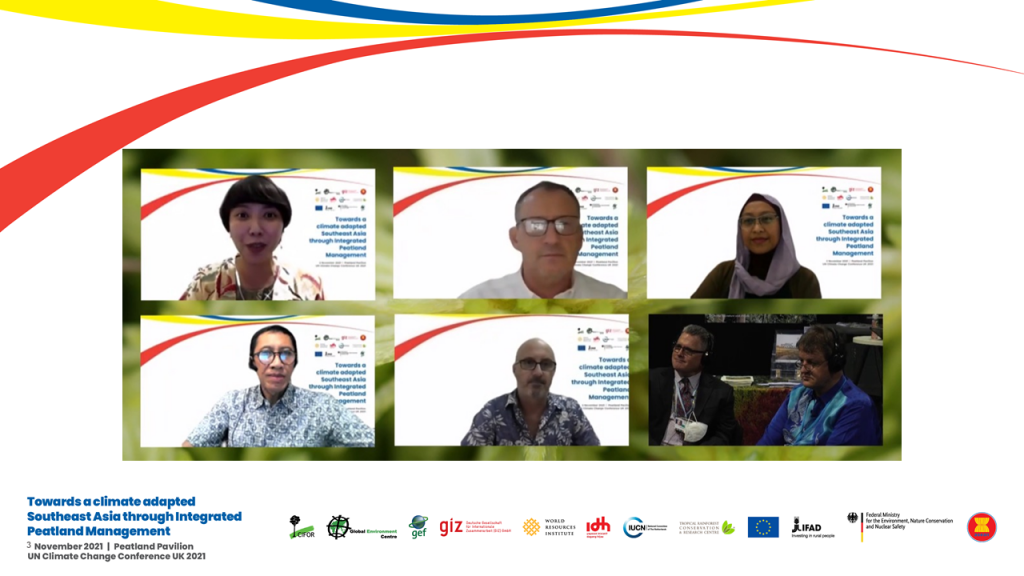 Dr. Vong Sok, Head of the Environment Division of ASEAN Secretariat, delivered the opening remarks for both side events. Speaking on behalf of the Chair of ASEAN Task Force for Peatlands, he underlined that "climate change has become a defining and most challenging sustainable development issue of the 21st century, threatening global economic stability and security to the world's most vulnerable region with more severe weather conditions such as typhoons, floods, drought and sea-level rise."
Advancing the commitments into reality will require global whole-of-society approach. The state actors, non-state actors, especially businesses, play an important role in ensuring that climate targets are met. While climate change poses risks, it also presents opportunities for a transition to green economy and low carbon development.
In his remarks, Thibaut Portevin, Head of Cooperation, EU Delegation to ASEAN, noted that "peatlands are the most efficient and neutral carbon sink on the planet." He also reiterated the need for increased pledges at COP26 for climate finance to the protection of peatland areas and reconfirmed the EU's commitment to this cause, as EU has already provided EUR 20 million for haze and peatlands under the SUPA Programme.
Associate Vice President of IFAD, Donal Brown, said that "MAHFSA aims to strengthen ASEAN regional coordination, capacity and partnerships, and to mobilise an estimated $1.5 billion 10-year investment framework to advance sustainable land management and haze prevention activities."
He reiterated that "IFAD is committed to working together for sustainably managing peatlands, rehabilitating them, and tackling forest and land fires for a haze-free ASEAN. Keeping the momentum generated at COP and capitalizing on ongoing commitments demonstrated by all ASEAN countries and peatland partners will be essential for knowledge sharing and South-South cooperation to facilitate immediate action on the ground.
The two events were moderated by Gita Syahrani from Lingkar Temu Kabupaten Lestari. Key messages derived from the discussion, include: (i) further action to be taken to assess the impacts of climate change on peatlands and develop adaptation strategies; (ii) efforts to conserve peat ranges from the water management to community empowerment; (iii) the organisation of collaborative actions requires clear data, information, guidance and policy; (iv) the ecological functions of peat determines the success of any economic scenario; (v) and an investment framework for peatland management is the basis to connect real needs with viable investment.
These events are part of ASEAN's and its Peatland Partners' efforts to raise awareness of the importance of tropical peatland restoration and management.
***
For full recording of the events, please check the following Youtube Videos:
Share this story